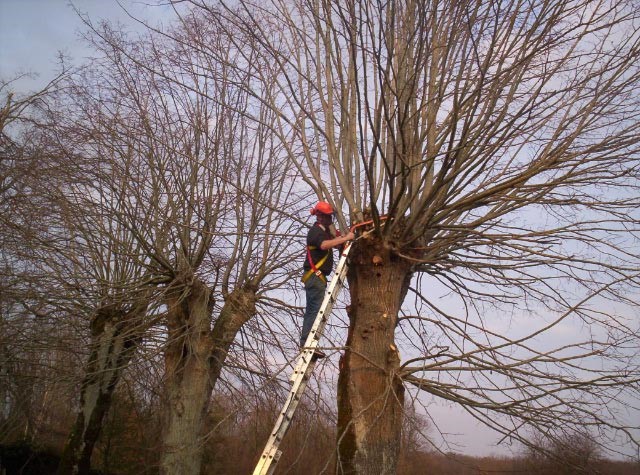 From time to time I help out my husband with his gardening business – there are occasions when you have to have two people on site to do a job safely.  Using a chainsaw or working at height are both obvious examples.
My husband had a list of jobs to do for a favourite client about an hour's drive away from home base, including: topping out some birch trees, taking out a load of high branches on a row of chestnut trees, manicuring a laurel hedge and bringing a hazel hedge back to a reasonable size.  He finally agreed a day (last Tuesday) to kick off the work and in particular do the work at height and needing the chainsaw.  On the Monday he went over to the worksite with about half of the heavy equipment we would need, including a mini-tractor and a long ladder.
On Monday night the weather forecast changed for the worse.  Tuesday dawned dull but dry, with light rain predicted from 3:30pm onwards – we could get the bulk of the work done before that set in.  When we arrived on site, I was sent to remove brambles from the laurel hedge while The Boss worked on getting the ladders in position for dealing with the birch trees.  After an hour wresting with undergrowth inside the hedge I heard my name being called outside the hedge so stuck my head out.  "There is no safe way of tying a ladder into any of those trees, and I am too old and heavy to climb up them – I can't do that bit of the job" – I could tell that someone's pride had taken a major hit.  "But didn't you check that before you said you could do the job?..."  A pause.
"But we can still do the chestnuts – I'll need you up on the slope in a quarter of an hour" – some pride regained!  This needed the electric chainsaw on a pole, and as the property owner was not on site to give us access to any sockets, we had brought our generator with us.  We got quite half way down the row of trees before lunch, so felt we deserved a break.  After lunch we got the rope onto the next bit of tree, I was braced at a safe distance holding the rope, all we needed was electricity and off we could go again.  The pull cord on the generator snapped.
Disaster?  Not necessarily – we always travel with spare pull cord.  Screwdriver?  Yup, three different types in the van.  Socket set?  What?  When do we ever need a socket set?  Well we needed it on Tuesday and it was 40 miles away.  We came home having done perhaps a tenth of the work planned for the day.
The moral?  Plan, review and risk assess every new job and work out what is going to cost you time and/or money if something goes wrong.  Just because a piece of kit hasn't caused problems in the past, doesn't mean it won't next time round – we carry a full set of tools for each chainsaw when we take them out, why we had failed to do the same for the generator?
Jane Holland is an MRE Associate Consultant